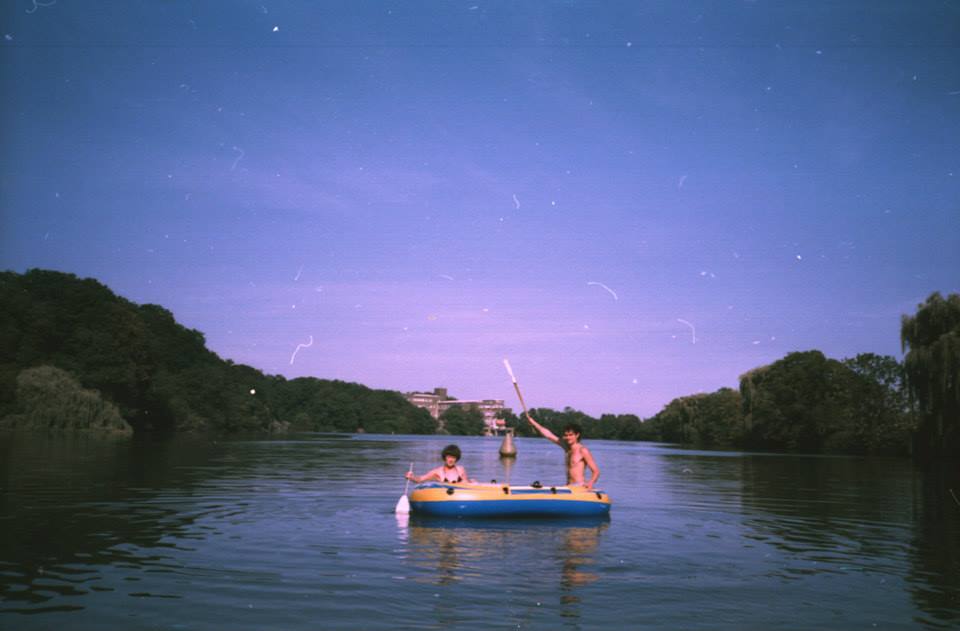 Daems van Remoortere is a Belgian artist duo consisting of Lena Daems (Berlaar, 1988) and Frederik van Remoortere (Antwerp, 1986).
Lena Daems studied photography and Frederik van Remoortere, In Situ at The Royal Academy Of Fine Arts of Antwerp. The duo develops their oeuvre in two directions: autonomous visual work on the one hand and multimedia installations in public space on the other. Their works are multidisciplinary and cross the line between theatre, film and visual arts. The duo incorporates different disciplines into their creations such as mathematics, astronomy and physics. In their work, they contain themes that deal with space and, more specifically, the field of tension between public space and a person's intimate environment. They look at human behaviour in a universe from a voyeuristic point of view. The public is often involved in their productions, making them active and necessary actors in the work. The works of Daems van Remoortere are represented by Berserk Art Agency and Ponti space. Daems van Remoortere has a far-reaching relationship with De Studio, they support them through various projects.
Contact
instagram.com/daemsvanremoortere/
Lampekap vzw
Maarschalk Gérardstraat 4
2000 Antwerpen
btw be 0524 930 841
t: +32 (0)498 296 097
Cv
Lena Daems 1988, born in Berlaar, Belgium.
2011, Royal Academy Of Fine Arts Antwerp, Master in photography. 2010, Royal Academy Of Fine Arts Antwerp, Bachelor in photography
Frederik van Remoortere 1986, born in Wilrijk, Belgium.
2012, Royal Academy Of Fine Arts Antwerp, Insitu3
Installations
2023 Sundance, M HKA, Antwerp (B)
2022 Track Tracy, Hildesheim, Evi Lichtungen (D)
2022 Track Tracy, Turnhout, winter in Turnhout (B)
2021 Ballooning a House, Antwerp, Antwerp Art Weekend (B)
2021 After Hours, Antwerp, Blikfabriek, (B)
2020 Ballooning a House, Oostende, The crystal ship by night (B)
2020 Ballooning a House, Ronse, 'alle rechte lijnen zijn gebogen' (B)
2020 Ballooning a House, Uit het donker 3, kasterlee (B)
2020 Track Tracy, Cultuurnacht, Breda, (NL)
2019 Track Tracy, Into The Great Wide Open, Vlieland, (NL)
2019 Track Tracy, Oslo Night, Hek, Basel, (CH)
2019 Track Tracy, Uit Het Donker 2, Turnhout (B)
2019 Track Tracy, MoMeNt Festival, Tongeren (B)
2018 Track Tracy, and& summit & festival, Leuven (B)
2018 Track Tracy, Antwerp Art Weekend, MAS, Antwerp (B)
2016 Fresco, Cement Festival, 's Hertogenbosch (NL)
2015 Fresco, Incubate Festival, Tilburg (NL)
2015 Fresco, De Markthallen, Herk-de-stad (B)
2014 re:fresco, Zomer van Antwerpen, Antwerp (B)
2014 Fresco, Cultuurcentrum, Kortrijk (B)
2014 Fresco, Anderzijdsfestival, Strombeek-Bever (B)
2014 Klotski, STORM OP KOMST, De Warande, Turnhout (B)
2014 Fresco, DEStudio, Antwerp (B)
2014 Fresco, Malpertuis, Tielt (B)
2014 Scenografie & Assistance, curator Annemie Van Kerckhove, Happy Birthday dear Academy (350 years KASKA), (B)
2013 Fresco, Première - DEStudio, Antwerp (B)
2012 Het raam, 24h Podiumkunsten, Antwerp (B)
2012 Het raam, Première — op en rond de Meir, Antwerp (B)
2011 Fresco Try-out, opendag KASKA, Antwerp (B)
2010 Klotski, Wouter van Veldhoven (NL), Eric Thielemans (BE), Kavka, Antwerp (B) Klotski, Nadia (CA) Ultraphallus (BE) Klotski, Amiina (IS) Brave Timbers (UK)
2010 Fresco Try-out, Red Bull Space, de studio, Antwerp (B)
2009 Paradise Lost, De Nachten, deSingel, Antwerp (B)
2009 Paradise Lost, Villanella, Studio Herman Teirlinck, Antwerp (B)
2008 gewoon evolutie, M HKA, Antwerp (B)
2008 de perser, Entrepot, Bruges (B)
2008 de perser, Museum Voor Schone Kunsten, Antwerp (B)
2008 de perser, St-Lucas, Antwerp (B)
Solo Exhibitions
2023 Playground Love, PONTI space, Antwerp (B)
2021 Are we movin' too slow?, Callewaert Vanlangendonck gallery, Antwerp (B)
2018 Meetingpoint, Callewaert Vanlangendonck gallery, antwerp (B)
2010 I've got Bubbles on my Mind, S.A.L.T. Warehouse, Antwerp (B)
Group Exhibitions
2023 Simulacrum @ Poortersloge, Brugge (B)
2023 Let's Play Museum @ M HKA, Antwerp (B)
2022 Art Antwerp @ PONTI booth, Antwerp (B)
2022 Art on Paper @ Berserk Art Agency booth, Burssels (B)
2022 Hantrax dolls @ Casstl, Antwerp (B)
2021 PONTI PONTI PONTI @ PONTI space, Antwerp (B)
2021 Callewaert Vanlangendonck @ Bulthaup Metropool, Antwerp (B)
2020 een blik achter de muur @ Blikfabriek, curated by Lieven Segers, Antwerp (B)
2020 cercle et carré @ Callewaert Vanlangendonck gallery, Antwerp (B)
2020 Art Brussels @ Callewaert Vanlangendonck booth, Brussels (B)
2019 Redefined, Callewaert Vanlangendonck gallery, Antwerp (B)
2016 Lichtkegel, Antwerp Art Weekend, Antwerp (B)
2013 Lichtlijn, DE Studio, Antwerp (B)
2012 Lichtsculptuur #2, Imposition, curator Leon Vranken, KASKA, Antwerp (B)
2012 Rek, Villanova - DE Studio, Antwerp (B)
2012 Cloud lines, Bouckenborgh, Merksem (B)
2012 Cloud lines, De Nieuwe Vrede opening, Antwerp (B)
2011 Photo Meetings Luxembourg, kunsthaus beim Engel, Luxembourg (L)
2011 'Konsoorten', curator Hans Theys — Wouter Boulangier, Herman Teirlinckhuis, Beersel (B)
2011 Random walk, Extra city, Antwerp (B)
2010 Now comes the monkey out of the sleeve…, Recyclart, Brussels (B)
2010 Site-seeing, Macke Zaal KASKA, Antwerp (B)
Permanent sculptures
Meetingpoint @ Haren prison, Brussels (B)
After Hours @ Blikfabriek, Antwerp (B)
Lichtlijn @ De Studio, Antwerp (B)